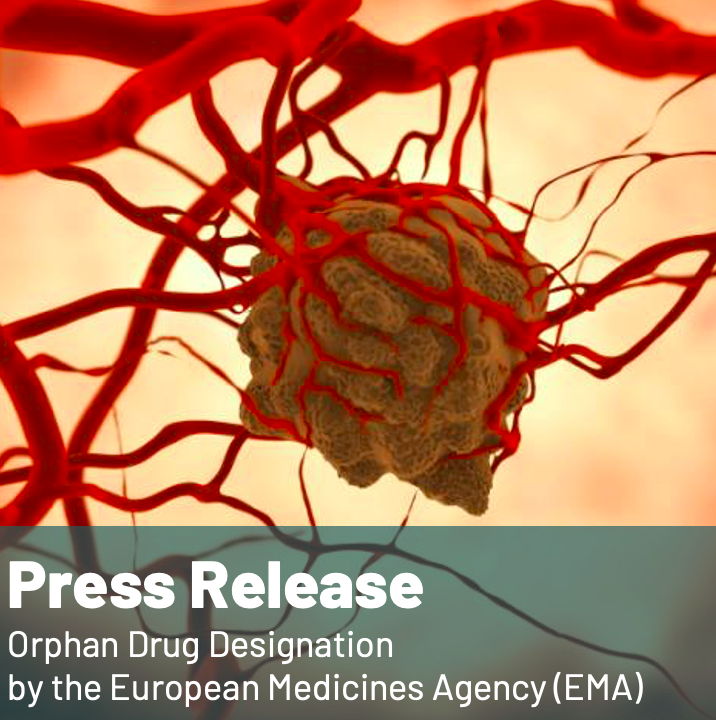 The European Medicines Agency (EMA) has granted Orphan Drug Designation to ONCO-Boost (HEPHAISTOS-Pharma) as treatment for osteosarcoma.
Paris, France, September 1st, 2022, 7:00 pm CET.
HEPHAISTOS-Pharma a French Biotech company developing a new class of immunotherapies to address hard-to-treat and metastatic cancers, today announced that the European Commission granted Orphan Drug designation (ODD) to ONCO-Boost for the treatment of osteosarcoma.
"This designation is an important milestone in the development of ONCO-Boost and demonstrate its potential clinical benefits for sarcoma patients who have an urgent need for effective, tolerable, and convenient treatment options" said Frédéric Caroff, CEO and co-founder of HEPHAISTOS-Pharma. "This key milestone was reached thanks to the collaboration of HEPHAISTOS-Pharma with the academic teams from Pr. Charles Dumontet at the Centre de Recherche contre le Cancer de Lyon (CRCL), and Pr. Jean-Yves Blay at the Centre Léon Bérard (CLB). These collaborations have demonstrated the potential clinical benefit of ONCO-Boost against sarcomas such as osteosarcoma and chondrosarcoma, but also against Lymphoma, colorectal and breast cancers. The company is now heading toward regulatory validation and expects a first clinical study by 2023."
In a recent interview on B-SMART TV, Dr. Aurélie Dutour from the CLB estimates that "ONCO-Boost is a great opportunity for patients as there was no therapeutic progress against osteosarcoma for 40 years and even the latest antibodies used in Immunotherapy failed and did not show any efficacy. The results that we obtained with ONCO-Boost were impressive and really encouraging".
In the European Union (EU), Orphan drug designation is granted by the European Commission, based on a positive opinion issued by the EMA Committee for Orphan Medicinal Products, to investigational therapies addressing rare medical diseases or conditions that affect fewer than five in 10,000 persons in the EU, and having sufficient non-clinical or clinical data demonstrating its potential clinical benefit in the indication. Orphan drug status provides benefits to drug developers, including a 10-year period of marketing exclusivity in the EU after product approval, protocol assistance from the EMA at reduced fees during the product development phase and access to centralized marketing authorization.
About Osteosarcoma
Osteosarcoma (OSa) is the most common primary malignancy of bone in children and young adults, but it's a rare disease with 35.000 cases diagnosed each year in the world. Despite multimodal treatments including mainly surgery and chemotherapies, the 5-year survival rate of OSa patients has not been improved in the last four decades with a rate around 60 % for patients with no clinically detectable metastasis and 30 % for patients with metastatic foci detectable at the time of diagnosis. There is therefore an urgent need to rapidly develop new treatment options for this very aggressive cancer causing the premature death of children.
About ONCO-Boost
ONCO-Boost is the first-in-class natural immunostimulant targeting the Toll Like Receptor 4 (TLR4) compatible with systemic administration enabling to address hard-to-treat and disseminated tumors but also metastatic cancers. ONCO-Boost development has reached preclinical regulatory phases by validating its industrialization, its safety but also its efficacy in various tumor models both as monotherapy and in combination with different therapeutic monoclonal antibodies (mAbs). As monotherapy, ONCO-Boost notably showed impressive anti-tumor efficacy on a relevant orthotopic Osteosarcoma model leading to complete regression of primary tumor and pulmonary metastasis in 78% and 40% of the animals respectively. Unprecedented results were also obtained in combination with a mAb like Rituximab on a Human B lymphoma model (Raise of complete response rates from 17% to 67-100%), and immune checkpoint inhibitors (ICI) on a mouse model of colorectal cancer (Raise of efficacity from 0% to 80%). ONCO-Boost was also found to generate anti-tumor memory immune responses for long-term protections against relapses but also to efficiently address at the same time primary tumors and related metastasis which is unique in this competitive field. The antitumor activity of ONCO-Boost was associated with its capacity to modulate the tumor microenvironment (TME) from a "cold" (immunologically suppressed) to a "hot" (immunologically active) environment.
HEPHAISTOS-Pharma is currently rising private funds to prepare industrialisation of the drug manufacturing and regulatory validation to go to clinical phases. Private investors or Business Angels can contact Frederic CAROFF, the CEO if they wish to participate to our next fundraising.
For more information , visit hephaistos-pharma.fr
Press & Investors Contacts  :
HEPHAISTOS-Pharma
Frederic CAROFF, MSc. MBA
CEO and co-founder
T. : +33 (0)6.67.89.30.47
Simon PICO, PhD. MBA
Business Developer
T. : +33 (0)6.38.87.79.80